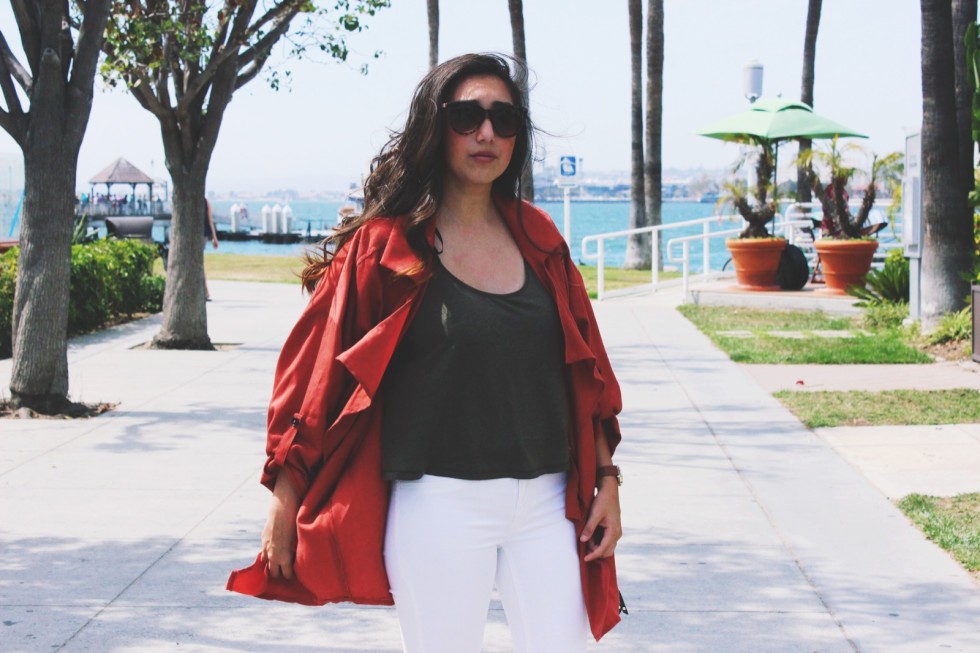 AFTERNOON FRIENDS! Ta-da! I have my outfit of the day for you, featuring H&M. 
As I've said in yesterdays post, I am entering this awesome contest that has been put together by Bloglovin' and H&M! Super stoked about this opportunity for all of us fashion and lifestyle bloggers. :)
Moving forward to my favorite piece right now from H&M! I am so in love with this burnt-orange color coat from the H&M Conscious Collection.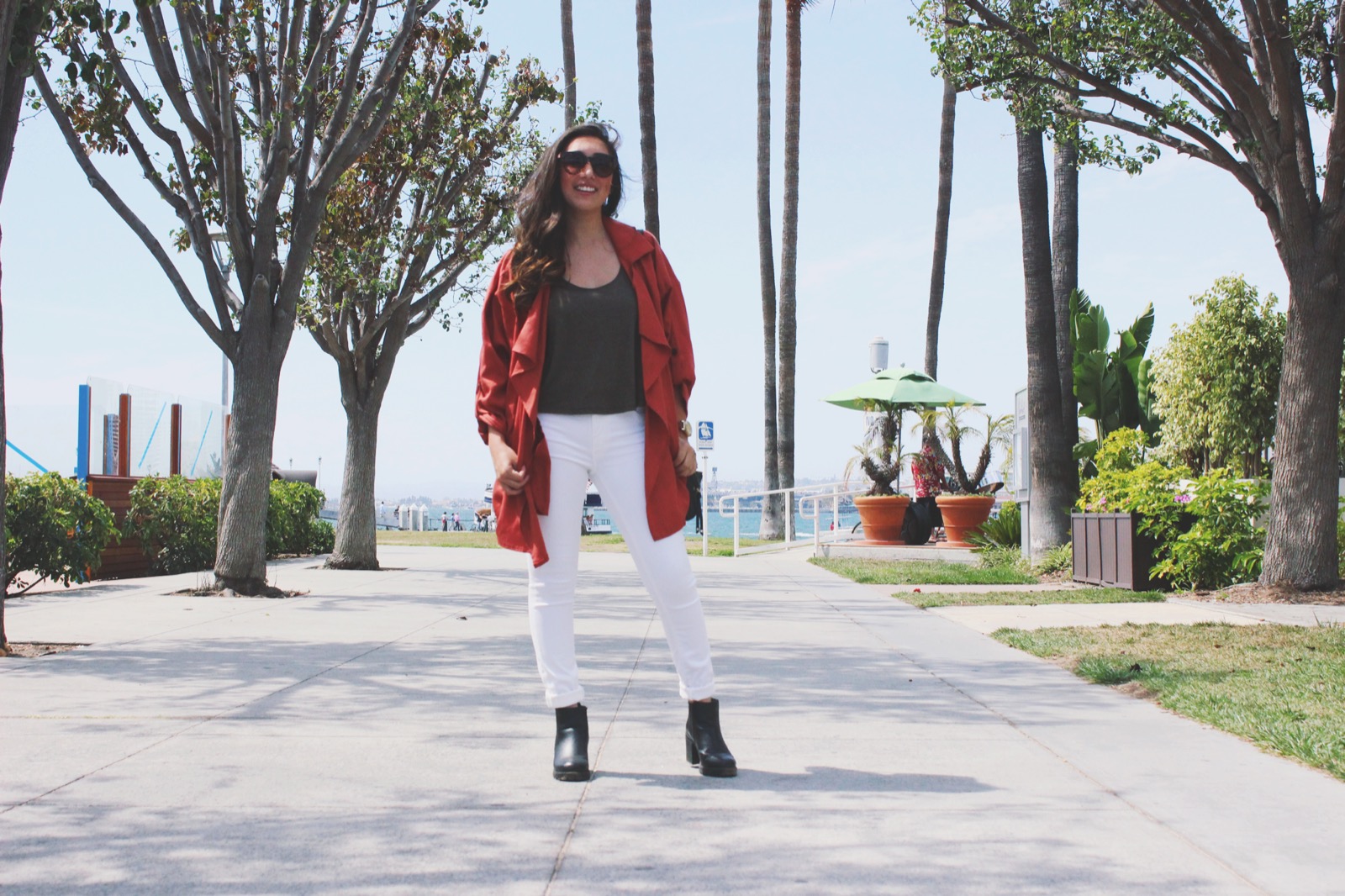 H&M

Coat & Military Green Crop Top ||  

American Eagle

White Jeggings ||  

Cathy Jean

Black Ankle Boots ||  ALDO Sunglasses & Watch
 If I had a name for this particular outfit I would call it "The Weekender". Casual outfits are (in my personal opinion) easy to dress up or down. You see- I am not a girly girl. Don't get me wrong, dressing up like a princess is awesome, but I hate getting ready as well. You know… all the effort that goes in to make up, hair, putting on jewelry, matching the right shoes to your super adorable purse, and the list can go on. Just all that in itself stresses me out! By the end of the day of figuring out what to wear, I look like a mad woman. Haha I hope I am not the only one… ;)
Being simple and a easy goer doesn't bother me. I guess you can say I am that type of person who doesn't really care what people think of what they wear or themselves. 
Just by wearing the bright color coat as part of my outfit made me already feel like I was standing out (making a statement of how bright I am… obviously) from everyone the other day. That is my ideal "fashion statement", just by being the odd ball in the crowd. 
Oh man, if you guys only knew how ridiculous I look leaving the house. I am for sure, Miss Not-So Matchy Matchy. Sometimes… ;D  
Although, my personal style does show some sides of my personality. I can be really shy to being this outgoing young wild twenty-one year old (yes, I am an adult that still looks like I'm sixteen haha).
I am not afraid to be different. Of course, it makes me feel like I should be more like those other conservative or dress more like an adult kind of ladies… but then, I come back to reality and remember that I am who I am from all the reasons in the past. All the pain, hurt, and joyful times in my younger years made me who I am today. 
Expressing my personality through my style has helped encourage me even more. Especially reading other fashion bloggers (or any other blogger in fact) blogs has helped me personally in my confidence tremendously. These other bloggers are just as original and real. Every time I find some one new in the "blogsphere" I always love getting this vibe of how much they relate to me and/or my life. The blogging world is a very interesting strange place.
Just like these other bloggers, they've made me feel like I wasn't alone. Having that amazing feeling of not being the only one, just made me want to continue to be an inspiration to every single one of you peeps. From my blog to my stream, I aspire to be inspired. 
Believing in yourself where there are positive like minded people, you are more likely to be even more happy. :)
p.s. hope you enjoyed my rambling…
p.s.s has been quite awhile since I've written a lot… xD
Have a wonderful day!
xx
instagram   bloglovin' follow the blog!   twitter   youtube   other instagram   watch me live!